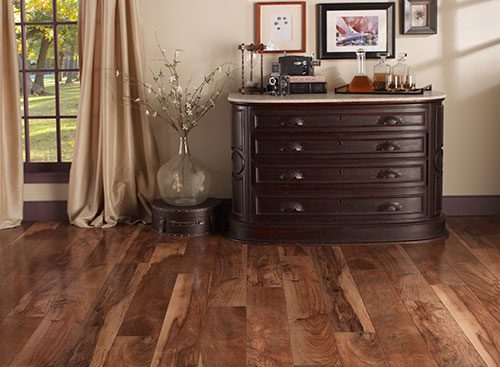 Laminate floors aren't wood, though they usually appear to be. Rather, laminate floors are entirely manufactured. They can be made to look like nearly anything, but most often they're made to look like wood. Increasingly, more options are showing up, and laminate floors that look like ceramic tile or slate are now available.
Laminate flooring can be found in a variety of species. At Bode Floors we have hand-scraped for the antique look or oil finishes for the high-end look. Laminate comes in long planks or you can opt for the new, casual wide plank or the tailored narrow plank.
The benefits of laminate flooring are many. It is stain- and fade-resistant and has a tendency to repel water. It does not need any special cleaners or special treatment to keep its looks. It never needs to be waxed or polished.
The most important feature of laminate flooring (and one that you can't see!) is the underlayment. This is a cushiony material that absorbs sound, helps to keep the floating floor in place and acts as a moisture barrier. The underlayment is purchased separately and put down like a carpet cushion. However, in some laminates, it comes pre-attached to each piece of laminate.
Visit our Bode Floors showroom and let our flooring experts show you how laminate can be a great choice for your home. Once you have decided on the flooring that fits your lifestyle, Bode Floors will install it for you. Contact Bode Floors today and let's get started on your new flooring!