For years, Bode Floors has provided homeowners throughout Columbia, MD with high-end carpet flooring. As a family-owned and -operated business, we take great pride in the opportunity to serve our local community. When you Google "carpet flooring near me" or "carpet and flooring stores near me," you may be flooded with numerous options. But there's only one store with the highest-quality products and unparalleled customer service – and that's Bode Floors. Our experienced technicians can provide you with top-tier carpet flooring installation services, so you never have to worry about going anywhere else. If you've been looking for a new carpet that will add beauty and style to any room in your home, Bode Floors is a trusted carpet store with a team of flooring experts equipped to help you find the carpet flooring that fits your lifestyle and budget.
The Types Of Carpet Flooring Options We Offer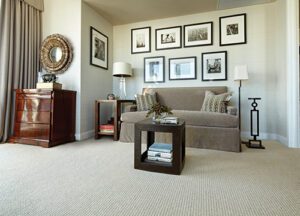 At Bode Floors, you can choose from a wide variety of carpet flooring styles that range from contemporary to traditional. We have countless colors and materials for you to consider, from neutral foundational colors to options that can serve as the focal point of your space. This includes carpeting with bold colors, dramatic patterns, and textures. The different carpet flooring types we offer include level loop, pattern, frieze, plush, and textured. Below, we've gone into further detail about each type:
Level Loop – This type of carpet flooring consists of looped and uncut yarns visible on the carpet's surface. The height of the loops can vary. This carpet is best for high-traffic areas.
Pattern – This carpet type is composed of high-cut tufts and lower loops. You'll find this carpet to be immensely durable and well-crafted for high-traffic areas.
Frieze – This carpet flooring consists of highly twisted yarns, which evokes a contemporary look in any home. With frieze carpet flooring, it's unlikely you'll ever see vacuum marks or footprints.
Plush – Sometimes called velvet, plush carpet flooring provides a formal appearance and dense, deep pile. They are subject to vacuum marks and footprints due to light reflection.
Texture – Sometimes called "trackless" or 'footprint-free" carpet flooring, texture carpet uses kinked or curled yarn to reduce light reflection.
The Benefits Of Carpet Flooring
There are numerous benefits to using carpet flooring in one's home, whether it's flooring over carpet or carpet tile flooring. Carpet can hold warmth and insulates against extreme cold and heat. In colder climates, this can be a significant advantage. As energy and gas costs rise, having carpet throughout your home can even lower your energy bill. When properly cleaned and maintained, this type of flooring is also known to maintain its life and beauty for many years. Vacuuming and occasional cleanings are all it takes to maintain your floors, and stain treatments are getting much easier with new technology. Today, most stains can be easily removed if they are treated immediately.
We Sell Pet-Friendly Carpet Flooring
At Bode Floors in Columbia, MD, we sell pet-friendly carpet flooring. Let our experts show you how you and your pet can live in harmony with Solution Dyed Type 6.6 Nylon for the Pet Protect carpet. With outstanding durability, stain resistance, and soil protection, this is a perfect choice. We know you've always wanted carpet that could resist pet stains, release pet hair, reduce pet odors, and provide you with soft and durable comfort, all under warranty protection. Below, we've gone into details about what our pet-friendly carpet can do. Contact our professional team today for more information about our High-End Carpet Flooring in Columbia, MD