For thousands of years, tile has been a decorative surface for floors, walls, and various other architectural features. That's because tile is a functional, timeless art form. In fact, tile—big or small, in countless shapes of stone, ceramic, and now porcelain—has never been out of style!
When most people think of this particular flooring material, they may think of ceramic tile only, but there is a host of other products that fit into the category as well. This includes porcelain, mosaics, glass, metal, and, of course, stone. Then there are trims and decorative pieces, plus endless colors in numerous shades and tones, textures, and finishes. Bode Floors is an experienced tile flooring company that is dedicated to helping you find the flooring option that best suits your needs and tastes.
Contact Us
What Type of Tile Is Right for Me?
There are so many factors that go into choosing the best tile for your home. You must initially decide whether they will be used on the floor or the walls. Will you use bright or bold colors or neutral ones? Do you need an option that's suitable for a home with dogs and children? Below is a quick guide from Bode Floors to help you determine which option is best for you.
Ceramic tile is used interchangeably with porcelain. Technically, both traditional and porcelain tiles are ceramics made from clay and other minerals that are fired at high temperatures.
Porcelain tiles are a form of ceramic, but they are fired at much higher temperatures. Porcelain is dense and very moisture resistant, which makes it a good choice for the bathroom and outdoors.
Glass tiles range from opaque to opalescent. They're available in broad sizes, shapes, textures, designs, and finishes. They are excellent for anything from accents to full-wall mosaic treatments.
Granite is a hard, durable natural stone that comes in many colors. It can be used on floors, walls, and countertops.
Marble flooring is making a comeback. With its strength and durability, and over 500 varieties available, the possibilities are virtually limitless.
"Wood-Look" Tile
The wood tile trend has been gaining momentum for several years, and now there are more styles and sizes to choose from than ever. First introduced as a modern take on hardwood floors, this trend has inspired all sorts of new dimensions for tiles that have never been seen before—the most popular being long narrow planks, as well as different colors, patinas, and finishes.
Wood-look tile is essentially a porcelain tile that looks like wood. In fact, many of these products look so real that, to the naked eye, it's nearly impossible to know that what you're seeing is not real wood.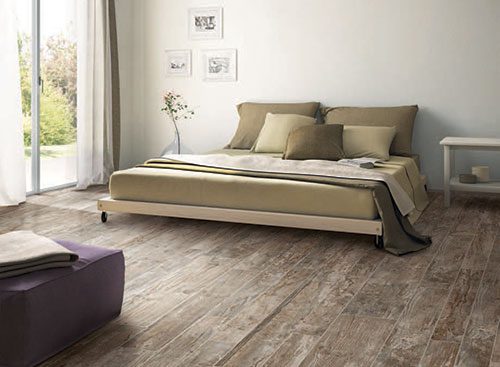 Tile now ranges from a finish that's a dead ringer for dark stained walnut to wood from a well-weathered fishing boat in France. With reclaimed wood on trend, buying wood tile is an alternative to searching for the perfect hundred-year-old barn wood. Tiles are available in dimensions that wood typically does not offer. Today's large format tiles are 24 by 24 inches and use fewer grout lines, which helps to open up the room and make it appear larger.
Wood-look tile flooring products are designed with a focus on performance and durability. This makes them perfect for any room, and they can even be used in both commercial and residential settings. Unlike wood, porcelain wood-look tile can be used in wet areas, including kitchens and bathrooms. In fact, porcelain tile is easier to clean and maintain than real wood.
Tile is a perfect flooring solution for active households. It's durable, beautiful, and easy to clean. Whether you want us to design a room or just add a splash of color, bring us your ideas and inspiration, and we'll create your very own work of art.
Once you have decided on the tile or stone flooring that fits your lifestyle, we will come and install it for you. Visit Bode Floors today or give us a call at 410-381-5900 to request a free quote.