A Simple Guide to Vinyl Flooring Maintenance
Vinyl flooring is a high-performance, inexpensive, and versatile alternative to traditional flooring options like wood, carpet, and stone. When properly maintained and protected, vinyl planks and tiles can retain their original appearance for years, even in areas of the home that endure heavy foot traffic. Follow this simple floor guide for maintaining and cleaning vinyl.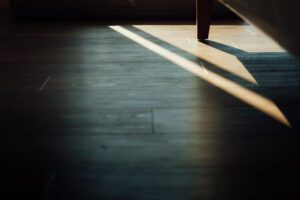 Take Precautions
The best way to keep vinyl flooring clean and looking like new is to take a few precautions against everyday dirt, grime, and damage. Those entering the home should always wipe their feet on a doormat or remove their shoes entirely to avoid tracking in damaging debris and oils. Felt or nylon floor protectors can also ensure that furniture doesn't wear away the vinyl over time, and heavy furniture should only be moved using a dolly or protective mats.
Dry Cleaning and Wet Cleaning
Before breaking out the mop and bucket, it's important to dry clean vinyl flooring. Use a floor duster and a vacuum without a beater bar or rotary brush head (these may scratch the floor) to safely remove dirt, dust, hair, and debris that can damage the vinyl if dragged around with a mop. To wet clean vinyl flooring, use a mop and warm water. Manufacturer-approved cleaning products or solutions can also be added.
Getting Rid of Stains and Scuffs
Although vinyl is quite durable, it can take on stains and scuffs over time. Stains can be removed with either a pH-neutral floor cleaner or a mixture of baking soda and water, but the cleaning should only be done with a soft rag or non-abrasive sponge. Minor scuffs can be buffed out with a melamine pad or sponge, but deep scratches may require that the whole plank or tile be replaced.
Long-lasting and simple to maintain, vinyl flooring is available in a wide variety of styles, colors, and textures. At Bode Floors, we offer a large selection of vinyl options as well as hardwood, laminate, and tile. Call us at 410-381-5900 to schedule an appointment in our Columbia showroom today.
By MicheleSarsitis@cbflooring.com | February 3rd, 2021