Flooring Ideas for a Minimalist Home
Minimalism has been a popular interior design trend across the country. By maintaining clean spaces, adding light or cool colors, and showing off a few staple pieces of furniture, minimalist designs evoke a sense of peace and simplicity. While flooring may seem insignificant to minimalism, it can enhance the cleanliness aspect of the space and complement the features of the home. Here are some flooring options that can fit any minimalistic aesthetic.
Classic Hardwood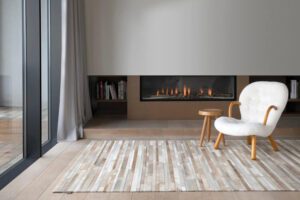 Hardwood flooring is as practical as it is inviting; the simple look is timeless and pleasant in any space. Hardwood flooring comes in a wide variety of colors, shades, and finishes, providing an array of options. Using white wood grain flooring with white walls can give the space an open and proper look while using darker finishes with lighter furniture can add a pop of color.
Contemporary Laminate or Vinyl
Laminate and vinyl flooring are attractive and affordable options that resemble ceramic, tile, or wood materials. These low maintenance floors can bring a luxurious, clean finish to help enhance a minimalist home, but without the upkeep of more costly options.
Comfortable Carpet
Although considered old-fashioned by some, carpet offers just as many chic design opportunities as other flooring types. Modern, patterned carpets can serve as a room's main focal point when paired with minimal, subdued furniture. Adding carpet in certain areas of the home can give it a cozier feel as well as accent the lighter tones of the room. For a more traditional minimalistic touch, stick to neutral colors like gray or cream to ensure the space gives off an open and polished look.
Flooring options for a minimalist home are anything but minimal—when choosing flooring for each room, remember to let it balance out the furniture for a calming, welcoming space. Bode Floors offers numerous flooring options to the Columbia, MD community. Call 410-381-5900 to schedule an appointment at our expansive showroom.
By MicheleSarsitis@cbflooring.com | January 13th, 2021