How to Choose the Best Kitchen Floor for You
How to Choose the Best Kitchen Floor for You
The kitchen is a frequently used room by homeowners, and can even become a gathering space for family events and holidays. Having the right floors in place can help to ensure that this space not only looks beautiful but is also a functional and enjoyable place to be.
Consider Your Lifestyle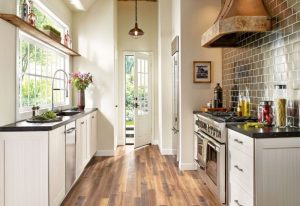 Homeowners shopping for new kitchen floors should take their lifestyle into consideration. Young kids or pets create the need for flooring that is durable and easy to clean. Porcelain tile flooring is hard, durable, and stain-resistant, making it an excellent choice for a large and busy family. For a more mature couple or a family that's going to be partaking in fewer activities, however, hardwood might be the way to go.
Review Care and Cleaning Instructions
Don't forget to think about the ease of care and material cleaning requirements when choosing a kitchen floor. Research floor care instructions for each option to understand how much work each material will require before investing in the project. To keep the flooring looking its best, understanding how often and how much time maintenance will take, as well as any specific cleaning materials required can help with making a decision.
Work Within Your Budget
Cost is one of the significant factors homeowners should consider when shopping for kitchen floors. Set a budget before looking around, so that it's easy to quickly see what flooring products fall within the desired price range. There's going to be a difference in cost between natural stone and vinyl flooring, so it's a wise idea to shop around and keep an open mind when trying to find a kitchen floor that's attractive and affordable.
At Bode Floors, we can help make sure the process of choosing a kitchen floor is a painless and smooth experience for you. Contact us to request a free quote or to schedule an appointment so that we can assist you with your kitchen home improvement project.
By MicheleSarsitis@cbflooring.com | January 8th, 2020