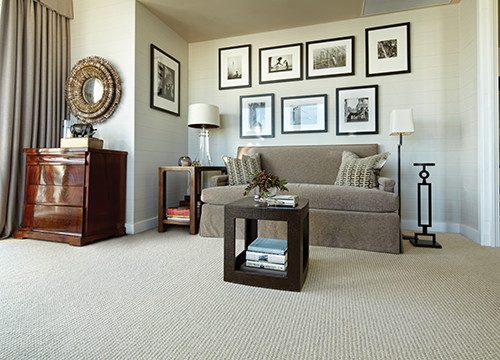 Have you been looking for a new carpet that will add beauty and style to any room of your house? There are thousands of carpet colors and materials to consider when making a decision. It can be a neutral foundation or a focal point with bold colors and dramatic patterns and textures. Broadloom carpet provides a comfortable place to sit and play and gives a room a warm feeling.
Carpet holds warmth and insulates against extreme cold and heat. In colder climates, this can be a big advantage. As energy and gas costs rise, having carpet throughout your home can lower your energy bill.
At Bode Floors, you can choose from many carpet styles, colors, and patterns that range from contemporary to traditional, so there is something for every taste! Our flooring experts can help you find the right carpet for your lifestyle and your budget. Once you have chosen the best carpet for you, we will even come and install it for you!
Carpet will maintain its life and beauty for many years when properly cleaned and maintained. Vacuuming and occasional cleanings are all it takes and treatment of stains is getting much easier with new technology. Today, most stains can be easily removed if they are treated immediately.
Visit Bode Floors at either of our two locations in Ellicott City or Columbia to get started today!
---
PET-FRIENDLY CARPET!
Let our experts show you how you and your pet can live in harmony with Stainmaster ® PetProtect ™ carpet. With outstanding durability, stain resistance, and soil protection, it's ideal for you and your pet!
Resists Pet Stains:
The STAINMASTER® PetProtect® carpet features SuperiaSD™ commercial grade fiber with built-in stain protection to resist the most difficult pet stains.
STAINMASTER® PetProtect® carpet is color-safe, with locked-in color, and can be cleaned with powerful cleaning agents1, giving you the confidence to thoroughly clean your carpet.
Releases Pet Hair:
STAINMASTER® PetProtect® carpet uses a proprietary technology that reduces the forces of attraction between the pet hair and the carpet, allowing the hair to be more easily removed with normal vacuuming.
Reduces Pet Odors:
The proprietary STAINMASTER® carpet cushion's breathable barrier helps keep moisture and spills from soaking into the cushion and subfloor, allowing thorough cleaning and odor reduction.2
Soft & Durable:
STAINMASTER® PetProtect® carpet is made with SuperiaSD ™ solution dyed nylon 6,6 fiber, offering a combination of unsurpassed durability to foot traffic as well as a soft, elegant touch.
Warranty Protection:
STAINMASTER® PetProtect® carpet carries the best pet limited warranty3 offered by the STAINMASTER® brand with protection against stains from urine, vomit, and feces.
---
Defined as hydrogen peroxide based cleaners
To Realize this benefit, you must use STAINMASTER® carpet cushion
See limited warranty brochure for details