Which Wood Alternatives Best Mimic Hardwood Floors?
Homeowners who prefer manufactured wood but desire the look of genuine hardwood will be surprised at the authenticity of modern wood replacement flooring. Here are options that best mimic the look of real wood with the added benefits of affordability and resistance.
Engineered Wood Flooring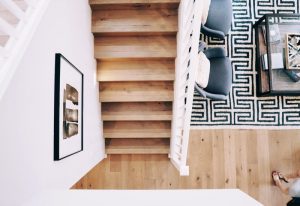 These planks are made from a thin piece of hardwood mounted on plywood, so they provide the most realistic appearance compared to other hardwood substitutes. Compared to real hardwood, engineered hardwood offers several convenient installation options. It's also more durable when exposed to moisture, which makes it a great choice for the kitchen. Although homeowners in the market for engineered wood have fewer options to choose from than with hardwood, selections include walnut, maple, and various exotic Asian wood species.
Laminate Flooring
High-quality laminate floors are available in endless colors and finishes, including styles that look like real wood, porcelain, or even natural stone. Homeowners with children and pets often prefer this option to real hardwood because these floors are water-resistant and stand up to scratches and wear. They also offer the benefits of easy installation and several available wood species, including pine, maple, cherry, and oak.
Porcelain Tile
Tile floors that resemble wood earn high marks from homeowners for their affordable cost, easy cleaning regimen, and durability. These tiles are even appropriate for bathrooms and other rooms with significant moisture exposure. As with other hardwood substitutes, porcelain tile comes in a diverse range of styles and tones to fit any design aesthetic.
Vinyl Flooring
Like laminate, vinyl is a popular choice for parents because of its ability to withstand heavy foot traffic and muffle noise, especially with the right cushioned underlay. Vinyl provides water resistance, scratch resistance, and comfort at a lower cost than other faux wood flooring materials.
With Bode Floors, homeowners don't have to sacrifice style for practicality while shopping for new flooring. Our trusted team can help you with this important decision to achieve your style goals for your home's floors. Call (410) 381-5900 to schedule an appointment today at our expansive Columbia showroom to view these attractive options in person.
By MicheleSarsitis@cbflooring.com | October 30th, 2019